OUR TEAM
The team at Sam Wong Salon is a select group of like-minded people that make it a priority to provide their clients with services that suit their personal style and life style. They educate themselves on the dangers lurking in the industry they love. In this way, the clients health and hair are less likely to suffer. Humanitarian and environmentally-focused world views are also shared by the team, and this is apparent through their work ethics.
Believing the simple choices we make can help protect the environment and planet for generations to come.
Let the beauty of what we love be what we do…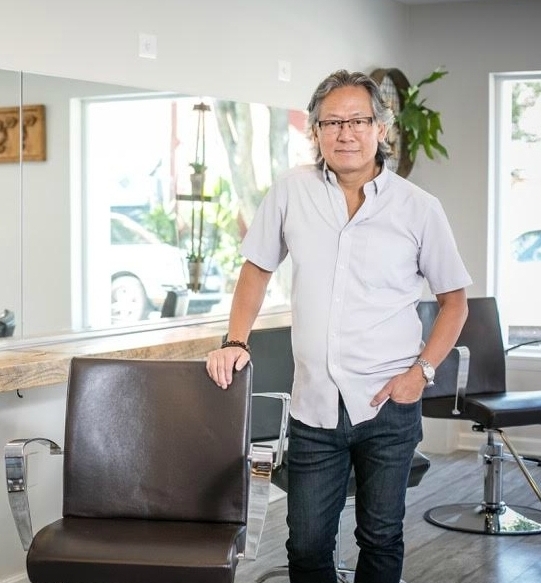 Master Stylist // Owner
Sam's career is wide-ranging. He began in Hong Kong as a Vidal Sassoon apprentice. Wishing to expand his knowledge and cultivate his craft, he traveled throughout Europe. He settled in Paris to gain editorial experience then moved to London to further develop and refine his skills at the Molton Brown Salon.
America was Sam's next pursuit. He continued to refine his expertise at several of New York's leading salons: John Delaria and Pipino Buccheri. He achieved one of his goals when he opened the first of his salons, Sam Wong Studio in SoHo New York. This was his base for the next 15 years.
Sam sought a more relaxed lifestyle and in 2005 relocated to Frederick, Maryland, where he opened Sam Wong Salon, a small simple space. Being in the beauty industry for over 20 years, Sam has endured the effects of working with harmful toxic chemicals. He now makes it a priority to offer healthier options for clients and staff.
Salon Manager // Owner
Born and raised in England, Anne immigrated to New York City when she was 18. She started working in the fashion industry for magazines such as Vogue, Harper's Bazaar, and V Magazine. She then furthered her fashion career by becoming a stylist at Barney's New York.
Anne relocated with Sam to Maryland in 2005 and together they opened Frederick's first Eco friendly hair salon. Her passion for "all things natural", animal welfare and preserving our planet was the driving force behind they business philosophy.
Anne's goal is to create a friendly and welcoming place for clients to spend a little time on themselves and to offer services that contribute to their overall well being. Supporting the community in which she lives and works is also important to Anne and her team and by participating in numerous charity auctions and events throughout the year. Our small steps combined help create a compassionate community and world.
Aesthetically, Sara is drawn to natural beauty. As a stylist, she places importance on enhancing each guest's individual attributes through an unconventional and innovative design. She believes that her perspective on life is continually enhanced through the individuality of each person that sits in her chair, and she sincerely values interaction with all of her clients.
Sara has worked with Aveda for almost a decade, and is "now proud to share Sam Wong Salon's dedication to a holistic and natural approach to health and beauty." She is now a certified Advanced Organic Way Colorist.
.......................................................................
WHAT DO YOU LIKE ABOUT WORKING WITH ORGANIC PRODUCTS AND IN AN ORGANIC SALON?

I feel so thankful to work in an environment where I don't have to compromise my personal beliefs of caring and respecting the planet, whilst keeping my guests and myself free of harmful chemicals.
FAVORITE FREDERICK RESTAURANT?
OMG! I can't decide on just one! I'd say my favorites are Lucky Corner, Cafe Bueno, The Orchard, and Lazy Fish.
DREAM HOLIDAY DESTINATION?
I think I'd have to say a quiet little cabin in the woods, right on a lake!
HOW DO YOU LIKE TO SPEND YOUR FREE TIME?
Spending time with my family, gardening, cooking, and going on adventures.
WHAT DO YOU LOVE ABOUT YOUR CAREER?
Being creative, building lifelong relationships, and making people feel beautiful.
Suzi embarked into the creative area by earning an Associate's Degree in Fine Arts. Her love of color and creativity brought her to the cosmetic arena, where she began her career as a makeup artist for Estee Lauder. Her ambition to advance her craft to include cosmetology led her to The Temple, Paul Mitchell's School of Cosmetology, in Frederick's Historic District.
While still in school, she joined Sam Wong Salon as an assistant and earned a spot on the floor as a stylist and makeup specialist after graduating in 2008. Continuing education is a priority for Suzi, and attending advance classes with some of the industries leaders such as, Vidal Sassoon, Davines,and TIGI keep her current.
With a style ranging from creative to conservative, she works great with both men's and women's hair with the intention of helping them in achieve a healthy, stylish look that they love and can easily work with at home.
Suzi is known to volunteer her hair and makeup expertise behind the scenes at various local fundraisers, fashion events, and weddings in both Maryland and Virginia.
.......................................................................
WHAT DO YOU LIKE ABOUT WORKING WITH ORGANIC PRODUCTS AND IN AN ORGANIC SALON?

It is a good feeling to know that you are using the healthiest products on the market for your clients. Also, knowing that you and your clients aren't having reoccurring exposure to toxic chemicals is such a relief. There should be no compromise when it comes to my clients or my own well being! The fantastic condition of their hair after is a plus as well. As soon as you walk in the door you can smell the difference.
FAVORITE FREDERICK RESTAURANT?
We have so many great restaurants here. Narrowing it to just two, I would say Lucky Corner and Lazy Fish.
DREAM HOLIDAY DESTINATION?
My dream holiday destination would be anywhere I can hike. I love being in nature. I would love to hike through the forests in Kauai.
HOW DO YOU LIKE TO SPEND YOUR FREE TIME?
Hiking with my dog, riding my bicycle or motorcycle, and drawing and painting.
WHAT DO YOU LOVE ABOUT YOUR CAREER?
I love being able to do something creative with my hands that makes people feel good about themselves. Making people happy is such a reward. To find that in a career is such a blessing!
Jillian graduated from The Temple in 2006. She worked as an assistant for Sam Wong Salon following graduation and is now a full-time stylist.
Her interest and specialty lies in organic, natural hair care and color. She strives to keep up-to-date with the latest styles and trends, and particularly enjoys highlights, color correction, layers, and curly hair care. What Jillian looks forward to most as a stylist is coming to work each day to meet new people, strengthen current relationships, and provide relaxing, positive experiences for her clients. She is now a certified Advanced Organic Way Colorist.
Jillian has completed training and achieved certification with Organic Color Systems. Her creative talents extend out of the cosmetology industry, into music and art, and she loves to travel regularly for inspiration.
.......................................................................
WHAT DO YOU LIKE ABOUT WORKING WITH ORGANIC PRODUCTS AND IN AN ORGANIC SALON?

It's a joy to work with products I know are not damaging the earth, my clients or myself. Our salon tends to attract like-minded people who care about our environment, and for that I am thankful.
FAVORITE FREDERICK RESTAURANT?
Might be an even tie between Firestone's Raw Bar, Cafe Bueno and Sardis.
DREAM HOLIDAY DESTINATION?
Vienna, Taiwan, Norway.
HOW DO YOU LIKE TO SPEND YOUR FREE TIME?
Spending time with my children and loved ones. I like to explore new breweries with my husband, new hiking trails with my kids and sit down at the piano to tickle the ol' ivories.
WHAT DO YOU LOVE ABOUT YOUR CAREER?
I love all the different kinds of people I get to meet. I have had some clients for over ten years that I look forward to seeing. Being able to help my clients feel a bit more confident makes it all worthwhile.
Jennifer is an Atlanta native with over 17 years years experience in the hair industry. Upon graduating from hair school she trained at the John Sahag workshop in New York City where she learned the art of dry cutting. She has a background in portrait painting and has a passion for creating shapes and colors that flow with movement and texture.
Serena began her career in 2004 as an apprentice in a small salon. This intimate setting developed her ability of connecting well with others, while the one-on-one education showed her first-hand how to move easily through color corrections, making this one of Serena's strong suits. Her career as a Stylist has evolved throughout the years as she continues to educate and grow on an individual basis too. Holistic Hair Care and Natural Beauty are true passions for Serena because she understands how connected everything truly is. This deep understanding comes from a background in Spiritual Mentorship and Life Coaching.

As a previous business owner of 'Serena Rose Styles,' she realized how palpable the energy for healing is in the salon environment. Clients 'tell their Stylist everything' and seek energetic shifts in confidence and so much more. So with supportive and loving clients by her side, Serena transitioned her services into 'Ceremonial Hair Services.' This unique service combines Spirituality and Hair Craft as a way to honor the salon experience while raising the vibration of the both the client and stylist in doing so. Her desire to best serve others led Serena to shut her doors for a time and dive deep into the Self-Development world, obtaining training and certifications similar to her continued education as a Stylist. After two years of study, she is ready to step back into the salon and regain her perspective as a Stylist. Moving forward from here, expect a book regarding Ceremonial Hair Services and Coaching programs targeted specifically to Stylists around the world to train them and share this wisdom.

Although Ceremonial Hair Services will not be found at Sam Wong's Salon, the increased quality of care and special attention during your hair services with her will be. Serena's presence will leave you in a state of peace while her talent will instill a deeper appreciation and love of yourself and your inner beauty. Serena gains fulfillment in her career by using her skill-set to touch other's lives, providing them with a higher sense of confidence. Expect to sense Serena's passion and feel relaxed in her hands.